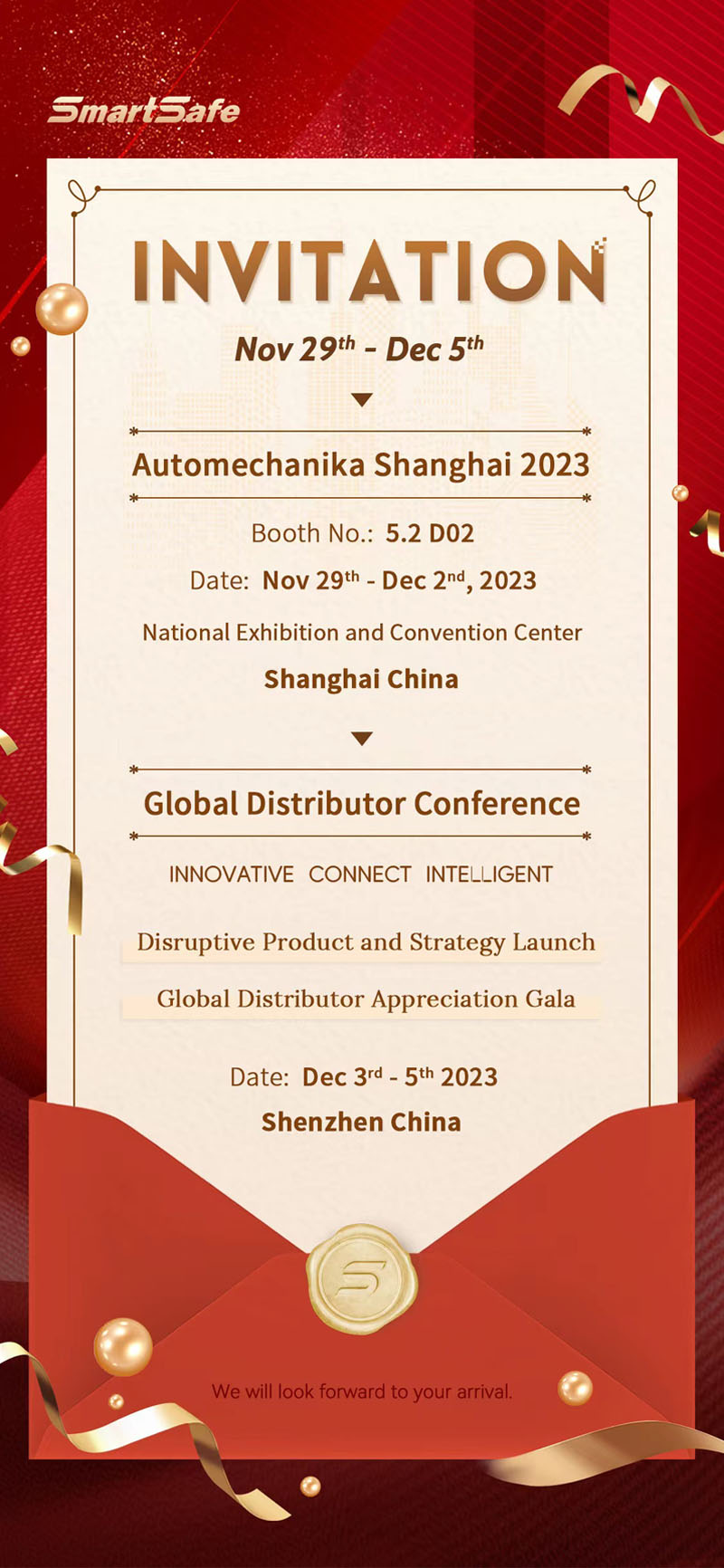 Dear friends,
We have two important invitations for you, and we kindly request your attention.
(1)
The Automechanika Shanghai 2023 is scheduled to take place from November 29th to December 2nd. During this event, SmartSafe will be showcasing our full range of products. We look forward to your visit and discussions at booth 5.2 D02.
(2)
The inaugural SmartSafe Dealers' Conference will be held from December 3rd to December 5th in Shenzhen. This is a deeply interactive event. The blockbuster products that SmartSafe has been honing for many years will make its global debut here. We look forward to your arrival, sharing experiences with global industry leaders and exploring new opportunities for future automotive services.
Sincere invitation again!
Company Profile
SHENZHEN SMARTSAFE TECH CO., LTD (hereinafter referred to as 'SmartSafe'), focuses on R&D, production, sales and service of professional calibration devices and maintenance and testing devices for intelligent vehicles and new energy vehicles, providing comprehensive solutions for automobile stable and safe working conditions. At present, we have developed five major product lines including automotive ADAS (Advanced Driving Assistance System) calibration, wheel alignment detection, automobile maintenance and service, automobile safety system detection, and automobile power system detection. Our products are sold in more than 100 countries and regions including China, Asia, Europe, North America, Australia, Latin America, South America and Africa, and more.
SmartSafe closely follows the development trend of intelligent vehicles and electric vehicles and combines core technologies such as big data, cloud computing, and artificial intelligence to provide professional and leading automobile ADAS (Advanced Driving Assistance System) calibration solutions, electric vehicle battery detection and analysis solutions and automobile safety system detection and analysis solutions for automotive aftermarket.
SmartSafe insists on technology innovation, independent research and development, and in-depth research in automobile safety and new energy-related fields, and is committed to becoming a leader in the global automobile detection, calibration, maintenance and service industry.