DP901

Smart Digital Power Supply
DP901 is an intelligent digital power supply launched by SmartSafe that is suitable for the maintenance of electric vehicles and fuel vehicles. It adopts a high and low voltage modular isolation design and features high and low voltage dual outputs, Bluetooth wireless control, and multi-scenario applications. It is a safe , stable and intelligent digital power products.
As an upgraded version of the intelligent digital power supply of DP750, DP901 has a high-voltage output voltage range of 50-900V, a low-voltage output voltage range of 0-50V, and a wide voltage output of 0-900V, making it suitable for more application scenarios.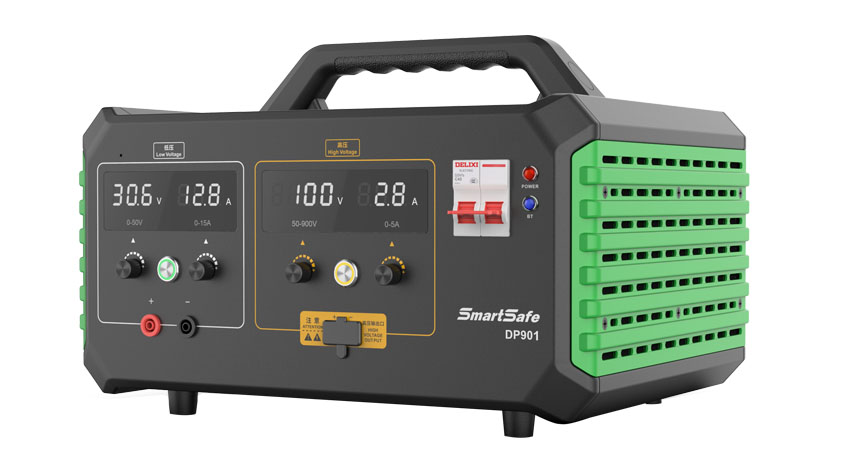 Applicable to electric vehicles and fuel vehicles
DP901 is suitable for maintenance scenarios of electric vehicles and fuel vehicles. It can be used for offline driving and maintenance testing of high-voltage electrical appliances, such as air conditioning compressors, steering assist machines, DC-DC modules, electronic fans, etc.
High and low voltage dual mode output
In terms of hardware design, the high-voltage module and the low-voltage module of DP901 are independent of each other. Each module can be independently managed, maintained, and monitored, and can be protected from affecting each other during power output.
High voltage self-test protection

DP901 has independent protection mechanisms in the input circuit, high-voltage output circuit, and low-voltage output circuit. It can detect undervoltage, overvoltage, overcurrent, short circuit and other faults and take corresponding protective measures.
Bluetooth wireless control
DP901 supports P01 to remotely view high and low voltage working conditions, set high and low voltage parameters, and turn on/off high and low voltage output functions.
DP900 is suitable for but not limited to the following maintenance scenarios:

ECU, air conditioning compressor, power steering pump, DC-DC module, air compressor (air pump), power steering pump (hydraulic), water heating PTC, electronic fan.
Product parameters
Power Supply

AC100-240V@20A

Communication

BT

Maximum Power

4000W Max

Display

LED Digital Tube

High Voltage Output

Voltage: 50~900V

Protection

Short-Circuit, Current-Limiting, OverVoltage, UnderVoltage, Over Temp

Current: 0~5A

Working Temp

-10~65°C

Low Voltage Output

Voltage: 0~50V

Size

395x315x265mm

Current: 0~15A

Weight

11kg

Front Panel

High Voltage: Current knob, Voltage knob, High voltage switch button



Low Voltage: Current knob, Voltage knob, Low voltage switch button